I started Hedonia Flowers in 2017 because of two reasons:
I love flowers. And after a decade of working as a floral designer, buyer, design consultant, and product manager, I've acquired a lot of knowledge about them. Including, how to make pretty things with them.

I love people. And I love sharing my knowledge with them, especially when it comes to helping them navigate the rather opaque and inefficient wedding industry. Most of all, I love thinking of ways to make the whole experience of wedding planning less of a drag, and more of a joy.
Thus, Hedonia was born.
A few things that make us different from our other friends in the floral business:
We're a small studio, so you get our full attention from the very start. Did you know some of the larger florists in Chicago can have over 30 weddings in a single weekend?

We're not afraid to talk numbers. We're for total price transparency and for helping you get the best value for your money, even if that means we get less of it.

Communication: Quick, friendly, and reliable. The basics, really!

Inclusivity. Because love is for everyone.
A little about me…
Hometown: Boston, but I've lived in Chicago for about 6 years.

Alma maters: Northwestern (Kellogg MBA & MS in Design Innovation) & UMass Amherst

Family: My husband and our cat Basil. Here he is being punished for eating the roses.

Hobbies: Birdwatching, video games, camping, flea markets, nautical disaster stories

Drink of choice (highbrow): Negroni. I love campari!

Drink of choice (lowbrow): Iced coffee from Dunkin Donuts. Sugar-free french vanilla, milk, & 2 splendas

Favorite flower: Coral charm peonies.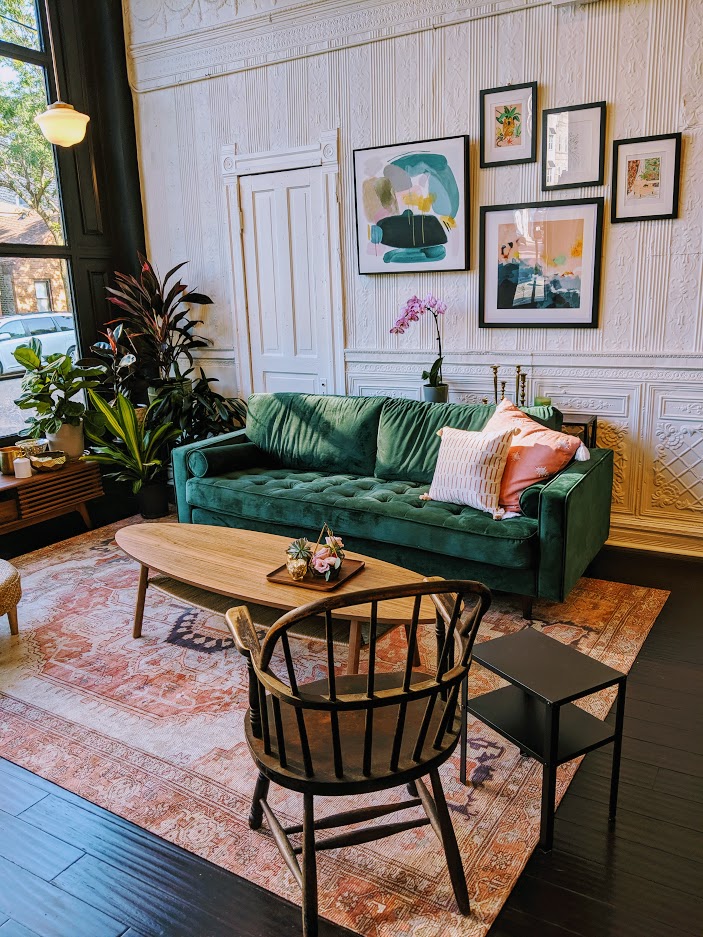 the studio at Hedonia Flowers
Come by for a wedding consultation or just to chat!
We're at 2900 S Wallace St., Chicago, IL 60616
Weddings. Fun. Beauty. Joy. Life. The end.